Vendor Showcase
The 2017 Annual Conference Exhibit Hall showcases participating firms and the products and services they offer government finance operations.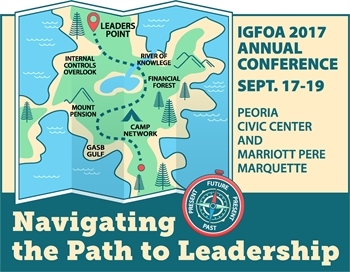 EXHIBIT HOURS
Exhibit Booth Setup Time:
Sunday, Sept 17 - 2:00 to 4:00 pm

Exhibit Hall Open:
Sunday, Sept 17 - 5:00 to 6:30 pm
Monday, Sept 18 - 10:00 am to 6:00 pm
Monday, Sept 18 Vendor Showcase Closing Reception - 4:45 - 6:00 PM
Dismantling of Exhibit Booth:
Monday, Sept 18 - 6:00 to 7:00 pm.
All materials and displays must be dismantled by 7:00 PM or arranged for dismantling/shipping through Best Expo Inc.
If you have any questions about your Exhibit Booth or Conference registration,

please

contact me or Diane Gillian Lantz at 630-942-6587.
---
EXHIBITOR POLICIES
BOOTH SPECIFICATIONS: Each booth includes a 10' X 8' draped booth, single 6-foot draped table, and two chairs. IGFOA will make every effort to assign the exhibitor one of exhibitor's booth choices. Additional items may be purchased directly from Best Expo, Inc., the official show decorator.
Each individual that will be working at or setting up your booth must be registered for the conference. Name badges and conference admission will only be made to paid registrants. Please note that the registration fee cannot be prorated. Like all conference registrants, exhibitors are responsible for their own lodging and travel arrangements and fees.
LIABILITY : Exhibitor agrees to indemnify, hold harmless, and defend IGFOA and their respective members, officers, directors, agents, and employees ('Indemnities') forever harmless from and against any and all liabilities, damages, actions, losses, claims, and expenses (inclusive of attorney's fees) on account of personal injury, death, or damage to or loss of property or profits arising out of or contributed to by any act, omission, negligence, fault, or violation of a law or ordinance by the Exhibitor or its employees, agents, contractors, patrons, and invitees. Exhibitor hereby waives each and every claim that arises or may arise in its favor against any one or more of the indemnities for any and all losses of damage covered by valid and collectible insurance. Such waiver precludes the assignment of any claim by subrogation or otherwise. IGFOA will not be liable for loss or damage of any article of equipment or property of Exhibitor that may be suffered during installation or removal or during the Exhibit by reason of robbery, fire, accident, or any other destructive cause.
LOST OR STOLEN ITEMS: IGFOA is not responsible for lost or stolen items.
Questions about the 2017 Annual Conference Exhibits should be directed to: IGFOA at (630) 942-6587 or info@igfoa.org .
Many Thanks To Our IGFOA Partner Firms
2017 IGFOA SUSTAINING PARTNERS
Arthur J. Gallagher & Co.
AXA Advisors
Azavar Government Solutions, Inc.
Baker Tilly Virchow Krause, LLP
BMO Harris Bank N.A.
Chapman and Cutler LLP
Forecast5 Analytics, Inc.
Federal Home Loan Bank
Illinois Metropolitan Investment Fund
JPMorgan Chase
MB Financial Bank
MWM Consulting Group
PFM
PMA Financial Network, Inc.
Promontory Interfinancial Network, LLC
Sawyer Falduto Asset Management, LLC
Sikich LLP
Wintrust Financial
Zions Bank

2017 ASSOCIATE PARTNERS
Amalgamated Bank of Chicago
Asset Controls Solutions, Inc.
BAIRD
BKD, LLP
BS&A Software
Capital Gains Incorporated
CBIZ Valuation Group, LLC
Civic Systems, Inc.
CliftonLarsonAllen LLP
Crowe Horwath LLP
Ehlers
Fifth Third Securities, Inc.
First Midwest Bank
Foster & Foster
GovHR USA
GovInvest Inc.
Graystone Consulting
GW & Associates, PC
Huntington National Bank
InfoSend
Johnson & Bell, Ltd.
Johnson Controls
Klein Hall CPAs
Lauterbach & Amen, LLP
Miller Cooper & Co., Ltd
Moody's Investor Service
Plante Moran
RSM US LLP
Sebis Direct Inc.
Siemens Industry, Inc.
Speer Financial, Inc.
S & P Global Ratings
Third Millennium Associates, Inc.
Tyler Technologies, Inc.