IGFOA Volunteer Recognition Reception
Other
Thursday, May 18, 2017, 3:00 PM–5:30 PM
Location
Hyatt Regency Lisle
1400 Corporetum Drive
Lisle, IL 60532
Map and directions
Registration for this event has closed.
---
Description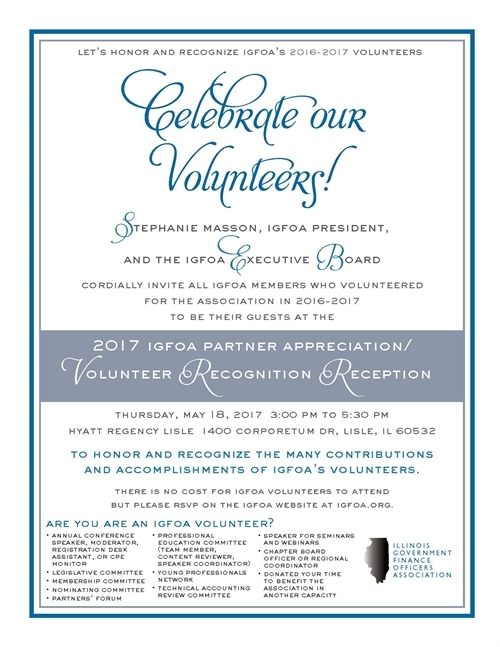 ---
The IGFOA Executive Board cordially invite all IGFOA Members who volunteered for the association in 2016-2017 to be their guests at the 2017 IGFOA Partner Appreciation/ Volunteer Recognition Reception.
The reception is being held on May 18, 2017 at the Hyatt Regency Lisle, 1400 Corporetum Drive, Lisle, IL beginning at 3 :00 PM.
There is no cost for IGFOA Volunteers to attend but please RSVP.
Are you are an IGFOA Volunteer?
• annual conference speaker, moderator, registration desk assistant, or cpe monitor
• legislative committee
• membership committee
• nominating committee
• partners' forum
• professional education committee (team member, content reviewer, speaker coordinator)
• young professionals network committee
• technical accounting review committee
• speaker for seminars and webinars
• chapter board officer or regional coordinator
• donated your time to benefit the association in another capacity
For more information
IGFOA
info@igfoa.org
630-942-6587