Gary E Karshna
President/CEO
Capital Gains Incorporated
gkarshna@capgns.com
8060 W. Oakton Street, Suite 102, Niles, IL, 60714, US map
(847) 318-9975 phone
(847) 318-9958 fax
(224) 558-7830 phone
www.capgns.com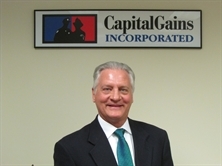 ---
IGFOA profile
IGFOA member since 1987
Affiliated with Chicago Metro Chapter
Capital Gains Incorporated offers a "finer kind of investment management services" to Illinois municipalities. We provide cash management services designed to outperform money market rates of return. In addition, we have managed Illinois police and fire pension fund assests since 1992. At Capital Gains Incorporated, we are extremely proud of our impeccable reputation. Capital Gains Incorporated can provide the cash management and pension fund investment management services necessary to make your investment program a success.
View Gary's IGFOA Knowledge Exchange activity »
---
About Capital Gains Incorporated
We can help you manage your short-term cash or longer-term municipal funds. Capital Gains can also provide investment management services for your police and fire pension fund assets, both the fixed income and equity portions of your portfolio.
Vendor services
Cash: Investment
Cash: Investment Advisor
Cash: Investment Consultant
Cash: Investment Manager
Cash: Investment Reports
Cash: Money Manager
Pension: Deferred Compensation Plans
Pension: Investment Advisor
Pension: Investment Manager
Pension: Investment Policies-Pensions
Pension: Money Manager
Pension: Pension Investment Consulting
Pension: Pension Portfolio Management
Are you an IGFOA member?
Sign in to view complete member directory and profile information available to members only.