Partner Program (Private Sector) Membership
Companies that provide finance and professional services to governments are encouraged to support IGFOA's mission to promote excellence in government finance by participating in the IGFOA Partner Program (Private Sector). Dues are paid on a calendar year basis January – December. IGFOA membership dues are not refundable. For details on the benefits for your Company, please review the Partner Program Benefits Chart listed below or call IGFOA staff at 630-942-6587 with questions.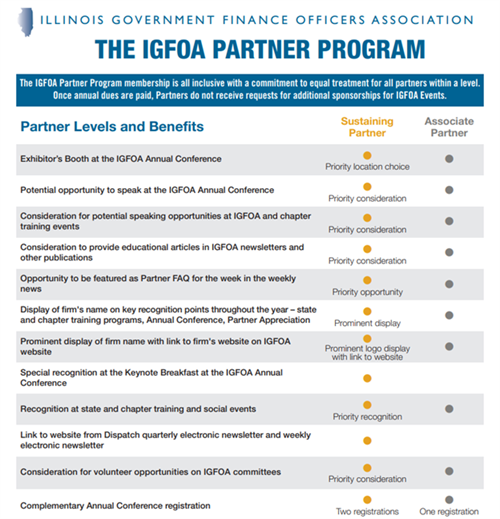 IGFOA SUSTAINING PARTNERS
Arthur J. Gallagher & Co.
Azavar Government Solutions, Inc.
BAIRD
Baker Tilly US, LLP
BMO Harris Bank N.A.
Chapman and Cutler LLP
Enterprise Fleet Management
Equitable
Fifth Third Bank
First Midwest Bank
Forecast5 Analytics, Inc.
GW & Associates, PC
Illinois Metropolitan Investment Fund
J.P.Morgan
MWM Consulting Group
PFM Group
PMA Financial Network, Inc.
PNC
Sawyer Falduto Asset Management, LLC
Segal Consulting
Sikich LLP
Wintrust Government Funds
Zions Bank
IGFOA ASSOCIATE PARTNERS
Amalgamated Bank of Chicago
Asset Control Solutions, Inc.
Bernardi Securities, Inc.
BKD LLP
BNY Mellon
BS&A Software
Call One Inc.
Civic Systems LLC
ClientFirst Technology Consulting
CliftonLarsonAllen LLP
Crowe LLP
DACRA Tech.
Federal Home Loan Bank of Chicago
First Bank Chicago, A Division of First Bank of Highland Park
Foster & Foster
GovHR USA
Ice Miller LLP
Illinois Public Risk Fund
Invoice Cloud
Lauterbach & Amen, LLP
Meeder Investment Management
Miller Cooper & Co., Ltd
Moody's Investors Service
Multi-Bank Securities, Inc.
Northland Securities, Inc.
Paymentus
Piper Jaffray Companies
Plante Moran
Promontory Interfinancial Network, LLC
Raymond James
Regions Bank
RSM US LLP
S&P Global Ratings
Selden Fox, Ltd.
Sonnenschein Financial Services, Inc
Speer Financial, Inc.
Stifel
Third Millennium Associates, Inc.
Tyler Technologies, Inc.
Wells Fargo, NA