Partners Resource Page
This is the landing page for IGFOA Partners to stay up-to-date on IGFOA opportunities and Partner Program benefits. Partners are encouraged to contact their assigned IGFOA Partners' Forum Committee member with any questions about their benefits.
Partner Notes
Partner Resources
IGFOA Partners' Forum - contact the IGFOA Partners' Representative with questions and ideas for the Partners Forum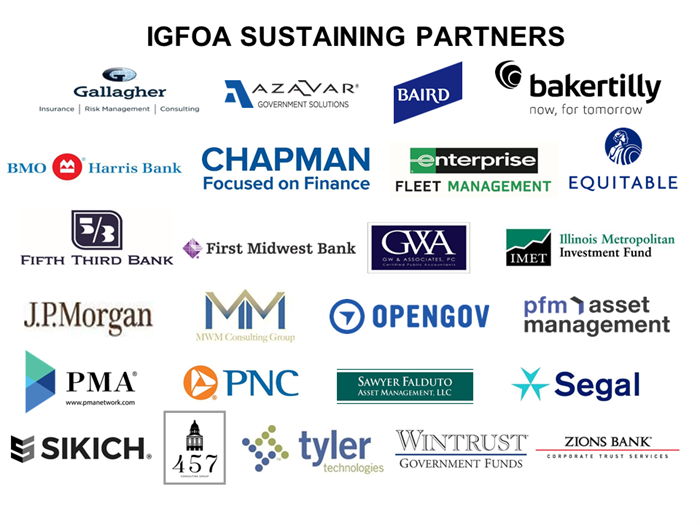 IGFOA SUSTAINING PARTNERS
Arthur J. Gallagher & Co.
Azavar Government Solutions, Inc.
BAIRD
Baker Tilly US, LLP
BMO Harris Bank N.A.
Chapman and Cutler LLP
Enterprise Fleet Management
Equitable
Fifth Third Bank
First Midwest Bank
GW & Associates, PC
Illinois Metropolitan Investment Fund
J.P.Morgan
MWM Consulting Group
OpenGov
PFM Asset Management
PMA Financial Network, LLC
PNC Bank
Sawyer Falduto Asset Management, LLC
Segal
Sikich LLP
The 457 Consulting Group
Tyler Technologies, Inc.
Wintrust Government Funds
Zions Bank
IGFOA ASSOCIATE PARTNERS
Amalgamated Bank of Chicago
Asset Control Solutions, Inc.
Baecore Group, Inc.
Bernardi Securities, Inc.
BKD LLP
BS&A Software
Capital Gains Incorporated
Civic Systems LLC
ClientFirst Technology Consulting
CliftonLarsonAllen LLP
Crowe LLP
DACRA Tech.
DebtBook
Federal Home Loan Bank of Chicago
First Bank Chicago
Foster & Foster
GovHR USA
GovInvest Inc.
Ice Miller LLP
Illinois Public Risk Fund
Intergovernmental Personnel Benefit Cooperative (IPBC)
IntraFi Network
(Formerly Promontory Interfinancial Network)

Kane, McKenna & Associates, Inc.
Laner Muchin, Ltd.
Lauterbach & Amen, LLP
Miller Cooper & Co., Ltd
Moody's Investors Service
Multi-Bank Securities, Inc.
Northland Securities, Inc.
OSG
Paycom Software
Paymentus
Paymerang
Piper Sandler & Co.
Plante Moran
Raymond James
Regions Bank
RSM US LLP
S&P Global Ratings
Selden Fox, Ltd.
Speer Financial, Inc.
Stifel
Third Millennium Associates, Inc.
Veregy
Wells Fargo, NA