Rock River Region Holiday Luncheon & Introduction to U.S. Treasuries
Event Cost
Type
Before 12/19/2022
Members

$

20.00

Government / Partner Colleagues

$

25.00

Non-members

$

30.00
Event Description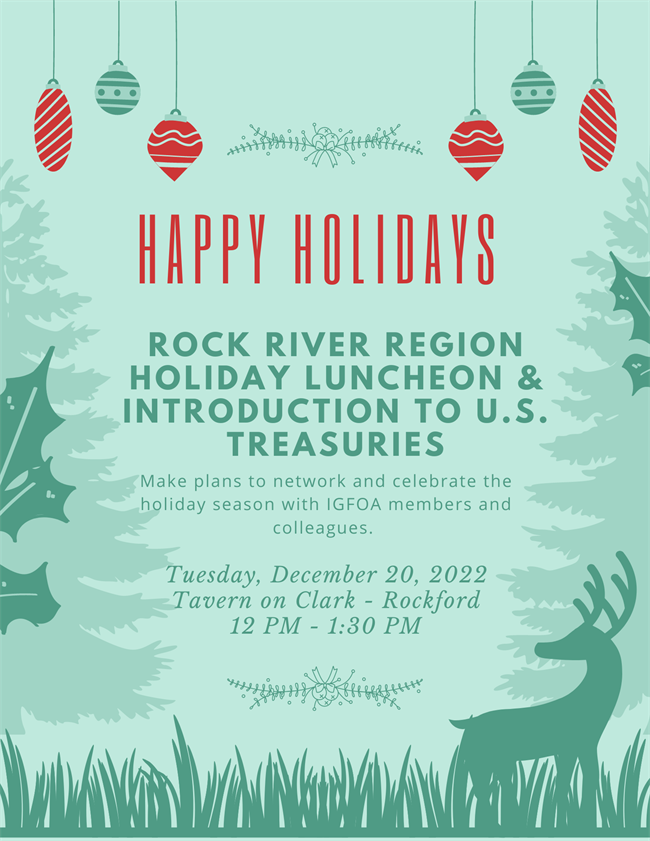 Check-in: 11:45 AM - 12:00 PM
Luncheon: 12:00 PM - 1:00 PM
Networking & Camaraderie: Immediately following the luncheon
Joe Pellegrino, Managing Director, Fifth Third Bank will provide a short presentation "Introduction to U.S. Treasuries." The update is not CPE eligible.
Holiday Fundraiser
Please consider supporting the Ruth Limpers' Scholarship Fund. Ruth Limpers served IGFOA members for over two decades. Throughout her service, Ruth was dedicated to advancing the mission of the IGFOA and its leadership. In April 2021, Ruth retired due to the progression of her ALS diagnosis. On September 8, 2021, Ruth lost her battle with ALS. To honor her memory and commitment to IGFOA, the Ruth Limpers' Scholarship Fund was created to support the studies of students at an accredited educational institution interested in a career in public finance. For more information about the scholarship and to donate click here.
Presented by the Downstate chapter
Registration & Cancellation Policy
REGISTRATION AND CANCELLATION POLICY
Registrations are accepted on a first-in, first registered basis. Payments by check should be mailed in advance or made at time of registration by credit card.
Cancellation of an event registration is subject to the following policy:
• No refunds will be given for cancellations the day of the event and no shows.
• For IGFOA event registration cancellations five (5) business days or more prior to an event, refunds will be offset by a $20 cancellation fee.
• For IGFOA event registration cancellations within five (5) business days of the training, refunds will be offset by a cancellation fee of 50% of the registration fee.
• A substitute attendee may be designated provided that the payment has been made and the IGFOA office has been notified in advance.
• A written request for a refund must be emailed to the IGFOA prior to the event.

By submitting this registration, the applicant agrees to the registration and cancellation policy above.

IGFOA reserves the right to modify the agenda and/or speakers, cancel the training due to low enrollment, or to close registration if full. Should IGFOA cancel an event, cancellation notice will be sent to the email address provided by each registrant and prominently posted at the IGFOA website page announcing the event.
If you have questions about the cancellation and refund policy, your membership, or a complaint, please contact IGFOA at 630-942-6587. The IGFOA reserves the right to apply the non-member fee to any individual or government that has not paid dues for the current year.