Diane Gillian Lantz
IGFOA Executive Director
Illinois Government Finance Officers Association
execdir@igfoa.org
800 Roosevelt Road, Building C, Suite 312, Glen Ellyn, IL, 60137, US map
(630) 942-6587 phone
www.igfoa.org
---
IGFOA profile
View Diane's IGFOA Knowledge Exchange activity »
---
About Illinois Government Finance Officers Association
IGFOA's mission is to promote excellence in governmental finance. IGFOA provides leadership, education, professional development, peer support, and communication to advocate best practices and advance the competence and effectiveness of local government finance officers in Illinois.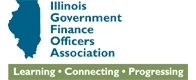 Are you an IGFOA member?
Sign in to view complete member directory and profile information available to members only.