IGFOA Partner Program Membership
Partner Program (Private Sector) Membership
Firms providing professional services to Illinois local governments are eligible to participate in IGFOA's Partner Program. The two levels of membership are available: Sustaining Partner and Associate Partner.
IGFOA's Partner Program is different in that membership is all inclusive and is designed to create the best possible value through a strong outreach initiative and a variety of engagement opportunities. Moreover, IGFOA is committed to maintaining equity between the firms at each level and building relationships with all partners resulting in true partnerships.
The Partners' Forum determines the number of partner slots available at each level to maintain proper balance between public sector members and vendors. When the maximum number of Partners at each level is reached, the Partner Program is closed until renewals open in December of each year. At this time the Partner Program is closed at both the Sustaining and Associate levels.
If you wish to be added to the waitlist or would like additional information, please contact the IGFOA at (630) 942-6587 or email info@igfoa.org. You may also reach out to a member of the Partners' Forum.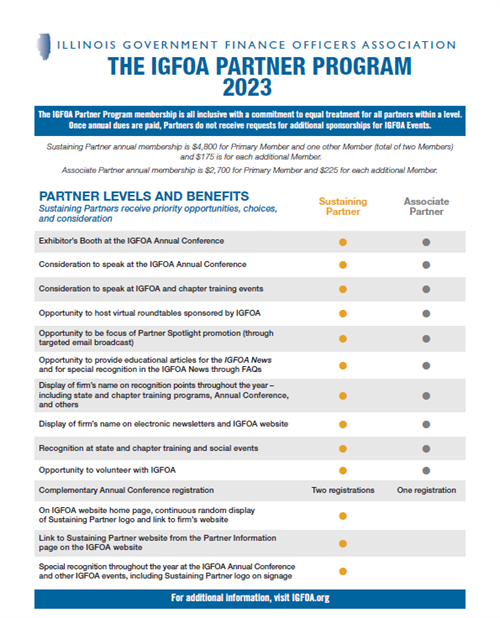 Download the Partner Benefit Flyer here.